When we set off to fulfil the task God has given us in mission, the obvious first step to begin with is to turn to the scriptures and to see what Jesus and the early church did as they responded to this same calling. In doing so our hope is inevitably to find a simple, easy to imitate and highly effective blueprint that will enable the same sort of impact in our own ministry as was evidenced in that of the first disciples. Thus our oft stated desire to 'get back to New Testament principles' and t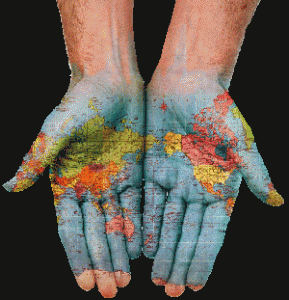 o become a 'New Testament church'. But whilst this endeavour is, of course, is to be encouraged we also must recognize certain difficulties that await us in the process.
Firstly, we must remember that the teaching of Jesus was focussed not on the establishment or development of the church, or churches, but on the Kingdom. Only in a very few passages, such as Matthew chapter eighteen, does he even mention the church, and there it is in the context of how we should deal with church conflict. (Clearly, Jesus had a very good understanding of what was coming!)  This means that whilst the Gospel accounts of Jesus' teaching absolutely give us all the basic principles and foundations we need to know the 'what' of our mission as local churches, they do not really give us any clear indication as to the 'how'. It would seem to me that this is very intentional on God's part and what God has done is to make it clear that each and every one of us must think through, and seek the Holy Spirit's leading as to what Gospel centred mission looks like in our own particular context. Developing our mission is therefore a dynamic rather than a static process.
Secondly, when we read beyond the gospels to the book of Acts and the various other New Testament accounts of the establishment of the first churches, we must remember that the accounts and letters we now read as scripture were written to specific gatherings of believers facing particular issues and difficulties in particular time- and culture-specific settings. This again means that we have to do more than simply reading these scriptures as a one off, once for all program for mission.  As with the teaching of Jesus, seeking to apply the accounts of the early church to our day will require a lot of thinking on our part and much Spirit dependent reflection on how we contextualize what we find there.
A third element to be considered is that any adequate reflection on the nature and practice of the church in mission must not carelessly discount the lessons and insights gained by the Christian church over many centuries of living under the authority of God's word and the inspiration of the Holy Spirit. As the old saying goes, 'history repeats itself because no-one pays attention the first time' and this assertion bears careful consideration in our task of mission as well as in other spheres of life. We are not the first to seek to faithfully apply the scriptures to our task as followers of Christ. Fellow believers have been doing this for a long, long time and many helpful and even vital insights have been picked up along the way. This means that in developing our own understanding of mission we should be careful to read and learn as much as we can from the efforts of others throughout the church's history and not limit ourselves only to its initial period. Many of the most important insights that we need to gain, and the most important mistakes that we need to avoid, will not be original.
So having looked at some of these challenges that face us in learning about mission from the early church, in part 2 let's remind ourselves of the single most important point of clarity that came to the early church as it considered the mission God had given it. It is hard to imagine a more important clarity for those of us in Ireland to emulate.
Please click here to read part 2.